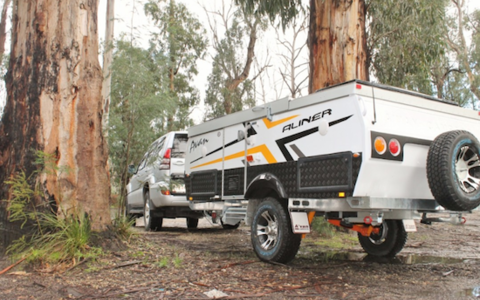 ADVENTURE PLUS CAMPER RANGE
Release your inner explorer and venture that bit further with an Adventure PLUS camper.
View range
If you are looking for a camper that's ready to explore further, then Avan's Adventure Plus campers are for you! With additional rugged features and greater ground clearance, these campers are perfect for any adventure enthusiast.
Avan Campers are the original no canvas camper and are renowned for their unique construction methods that delivers lightweight, yet super strong campers. This super strength smooth panel construction along with their insulated interior and tinted windows provides you with superior comfort all year round. Not to mention they offer better security than any other folding camper. The smart design of the Avan campers allow for super fast set up and pack down. In fact they can be erected in under 30 seconds, so you can start your holiday sooner.
It's all about the lifestyle
Avan have maintained the popular layouts of both the Aliner and Cruiseliner, yet developed the Adventure Plus range for those who love their adventure lifestyle. Stacked with robust features to enhance your adventure, the Adventure Plus range is simply impressive. The upgraded 5″ chassis, combined with the independent coil suspension and 15″ wheels give you greater flexibility, while the air conditioner, 8-watt solar panel, gas/electric hot water service and external shower ensure the comforts of home are not forgotten.
Adventure Plus Upgrades
Upgraded 5″ chassis
Alko Off road hitch
80 watt solar panel
Independent coil suspension
Upgraded wall hinges
Upgraded draw runners
Upgraded cupboard hinges
Increased internal framing in wall structure
Air conditioner
15″ wheels with all terrain tyres
Entry grab handle
Radio CD player
External speakers
External gas bayonet
External 12 volt and TV antenna point
3 x external baggage doors
Inner spring mattress
Awning tracks
Microwave
DC charger
12 volt van battery and charger
2 x large winding domes
2 x 60 litre water tank
Release your inner explorer and venture that bit further with an Adventure Plus camper. Our Avan Adventure Plus range is built to explore that little bit further down the unsealed road.
Of course, take extra care along uneven surfaces, avoid hard impacts and heavy landings and never cross waters at or above floor level.
For the experts in caravan sales visit Avan Adelaiude today. Our experienced team have a wealth of knowledge when it comes to the caravan and camping industry and can help you choose the right one for you.